Guest Author: Denise Wakeman
I just returned from a two-week adventure in India. It was beautiful, challenging, chaotic and fabulous.
The other night while suffering from extreme jet lag and unable to sleep it hit me that we can learn a lot from the business owners in India.
I spent 8 days in Rishikesh, in the north of India and the self-proclaimed capital of Yoga. There are dozens of yoga training programs offered in Rishikesh. It's also a holy city, located on the banks of the Ganges River in the foothills of the Himalayas. The city is teeming with tourists, yogis and spiritual pilgrims, both from the West and from all over India.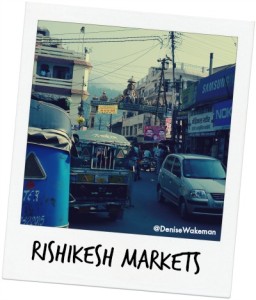 There are hundreds of shops selling trinkets, jewelry, souvenirs, clothing, etc., etc. Most of the stuff is similar, if not exactly the same, from shop to shop. So how does one shop standout from another to attract the valuable tourist rupees?
There is a cacophony of advertising EVERYWHERE, and the shop owners frequently stand in the doorway shouting about their ware, engaging with people as they wander by, inviting them to enter their shop where they can move into their masterful sales patter.
Shop owners do not sit in the back of the shop and wait and hope you'll enter. They actively engage passersby with enticing offers. They have signs and ads and displays right in your face as you walk by.
And it works. A smile, a particularly appealing invitation or beautiful bracelet catches your eye, and you're in.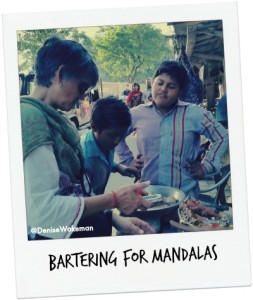 The vendors in Rishikesh know they have a lot of competition and they knowthey are all vying for the same small niche audience. And, they work it, constantly. Their livelihood depends on it.
We, online entrepreneurs, are spoiled. For years we have enjoyed using the free tools of the Web to attract new customers and clients. We rarely felt we had to pay for ads to attract eyeballs on our offers.
But things have changed.
There's more competition for the same eyeballs. You can no longer sit at the back of your virtual shop and wait for people to notice you, wander in, and buy your programs and products.
It's time to get more vocal and be proactive about getting in front of your ideal audience. You don't need to stand on a corner and shout to passersby. You do need get your message and invitations in front of them, though, and on the Web, that's with ads.
But, if you don't know what you're doing, you're wasting your money. It's much better to learn how to create targeted ads and campaigns the right way. It will save you a ton of time, money and lots of grief in the long run. And, you'll see better results.
It doesn't have to cost an arm and a leg, either. In fact, for as little as $50 a month, you can create a steady stream of leads for your business. Wouldn't that be worth it?
You have to know the 3 best ads for reaching your business.
You have to know how piggyback on the others' success to target the right people.
You have to know how to create a campaign and set a reasonable budget.
And, you do have to be willing to invest in your business.
In your business, I want for you to be found and seen and hired by the right clients and customers. Because, when you're successful, there's a domino effect that spreads to those you serve and touch.
There's a huge untapped audience waiting to find you on Facebook. It's time for you get out there so you can make a positive impact on their lives.
Sounds good, right?
Best,
Denise