I've been in online marketing for over 10 years now and I work with companies and entrepreneurs in various ways depending on their needs, goals and timeframe. I specialize in the management of online product launches, making sure all the assets are in place, stuff is working and timeline creation.
From website optimization, CRM systems, social media to tons of project management. Working with VAs, copywriters, graphic designers, yep the whole crew, to get all the assets needed, to stay on time and on budget.
The geeky stuff that many find boring, daunting and downright frustrating I bring to life for you by infusing creativity into marketing and operations!
Next, pick the path that best fits your company: VIP Coaching or 1-on-1 Direct Support. Keep reading for more awesomeness awaiting you!
VIP Coaching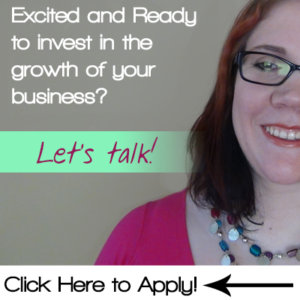 This is your opportunity to work directly with me on your biggest online marketing challenges, integrate social media into your business, boost your online presence and much more!
I literally pull back the curtain and share strategies that have worked for INC 500 companies AND start up businesses! It's a true joy helping 100s of entrepreneurs like you easily attract new leads and happy paying customers into their business with their powerful online presence.
If you're ready to ignite your online marketing this is the place to be!
Let's talk about it! Reserve your spot with me now.
---
One-on-One Direct Support
Need more hands on support for yourself or your team? This is a better fit for you. We'll work together to implement strategies, upgrade systems, create new awesomeness! I'm there to help every step of the way. To make sure you have everything you need, make recommendations on tools when necessary, simplify, and streamline.
Yes, this is your customized marketing support when and where you need it.
Some people may call this Online Business Management, others Online Marketing Strategist. Whatever you want to call it..you get my 10 years of expertise pumped right into your company!
Let's talk about it! Reserve your spot with me now.