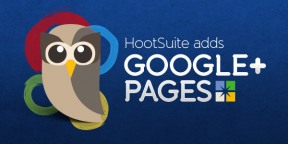 Yep, we can now schedule to our Google+ Pages with HootSuite. This makes my day! I know I personally haven't used Google+ as much as I'd like…and the reason being, I didn't have a tool that fit into my schedule. That meant I had to go to the network directly, and most of you know I have systems in place that save me hours every day…so I seldom made it over to my Google+ space. Well, that will all change now 🙂
Let's hear it straight from the source, HootSuite:
Google+ Pages For Brand Engagement

Google+ launched new Google+ Pages for brands to have a unique and nuanced engagement experience with audiences.

With Google+ Pages integration, marketing managers and socially strategic organizations are offered new ways of managing connections with customers within the HootSuite dashboard for lead generation, HR recruiting, support, brand awareness and social campaigns.

Targeted Publishing with Circles

Google+ Pages in the HootSuite dashboard allow brands to tailor messaging to specific audience segments and post updates to selected circles. HootSuite privacy features let Team Members select whether a post will appear public, or whether it will post to a specific circle.

Advanced Circle Management

Brands can now collaboratively build out their Google+ Page presence using HootSuite's advanced team workflow functionality – such as message assignments and follow ups – optimizing the unique engagement benefits of Google+ circles.

The functionality also allows for custom searches of keywords or phrases within public posts and specific content streams for easy monitoring. By simplifying the monitoring of comments and posts from audience members, teams can streamline +Pages management easily through the HootSuite dashboard.

Google+ Pages are for anyone who wants build lasting relationships with customers, and are the centrepiece for brands, businesses and celebrities who want to build a presence on Google+.

Social media teams can now fully utilize the advanced capabilities of HootSuite's engagement, measurement, collaboration and security tool-set to manage the unique brand-focused environment of Google+ Pages for:

Targeted Publishing with Circles
Advanced Circle Management
Guys this is great stuff! I have not found any other tools to schedule posts for Google+ link this one.
If you're not using HootSuite I highly recommend them, personally use them and have all my clients use them 🙂