Twitter can be a fun and powerful platform. It can also be a huge a time suck if you don't have essential systems in place to support you. If you love the idea of Twitter but you're having a hard time keeping up with the never-ending feed or maybe you can't keep up with the people that really matter most to you it's time to uplevel your experience.
There is one simple way to spend less time on Twitter and get more done. Twitter Lists. If you would like to save hours and keep your finger on the pulse read on.

What is a Twitter List?
A way to organize people on Twitter, or find new people. It's a group of people that you can personalize any way you see fit. They're a static list of people and a live feed of their posts.
There's a few ways you can use them to save time and get the information you want when you want it.
You can create a list, public or private. More on this in a minute.
You can follow lists created by others.
Others can add you to a list, public or private.
You then return to your list to see what these people are saying. So you don't have to sift through your entire news feed to try and find specific people. Time saver!
Twitter lists save you hours and allow you to truly connect with those who matter to you. Get organized and have fun!
There's two mistakes I see entrepreneurs make: They ignore Twitter Lists. Or they have 20 of them that they don't use. Let's find the perfect balance. Ready to get organized and have fun?
Real engagement. Real connections. Real results.
Click To Tweet
How to create a Twitter List:
Navigate to your Lists page on Twitter. There are two ways to reach your lists; via the profile drop-down menu in the top navigation bar or by going to your profile page and clicking the Lists tab.
Click Create list.
Enter the name of your list (Note: The title of your list cannot exceed 25 characters), a short description of the list, and select whether you want the list to be private (you'll be the only person who can see and access the list) or public (anyone view and subscribe to the list).
Click Save list.
How to Add (and remove) People from Your Twitter Lists
Click the person avatar which brings you to their profile. This brings up a drop-down menu.
Select Add or remove from lists. (Note: You don't need to be following a person to add them to a list.)
A pop-up will appear displaying your created lists. Check the lists you would like to add the user to, or uncheck the lists you'd like to remove the user from.
How to view Tweets from your Twitter Lists:
Go to your profile page.
Click the profile drop-down menu in the top navigation bar.
Choose which list you'd like to view.
Right away, you'll see a stream of Tweets from the users included in that list.
8 Ways to Use Twitter Lists to Easily Engage & Boost Your Visibility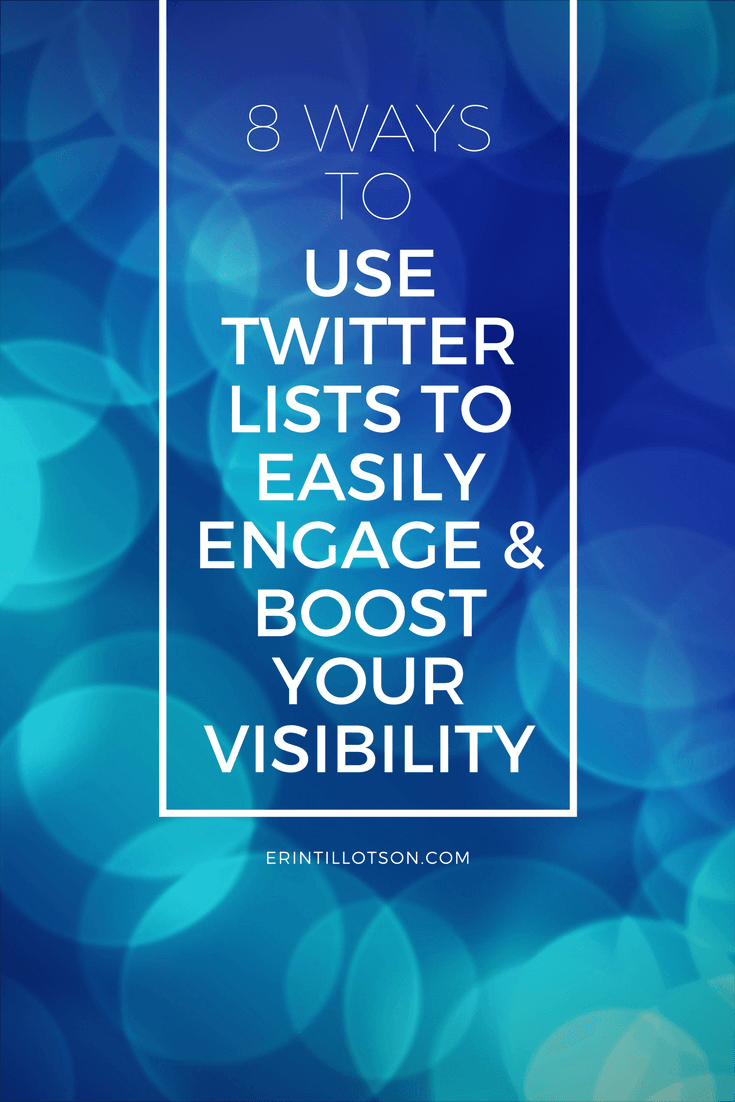 Let me share a few strategies as to when and why I create a list. Here are a few ideas to get your juices flowing:
Thought Leaders – I love to share posts and tips from users I admire that can help my audience.
Business Partners –

These come in many shapes and sizes: JV Partners, Affiliates, Co-Owners, Team Members and so on. 

Connecting with these partners and sharing content that compliments my expertise keeps engagement going between promotions.
Clients – I have a private list of my clients so I can watch their posts easily. This allows me to give congratulations, share their content, as well as provide any feedback I can to improve their Twitter marketing efforts.
Fellow Mastermind or Program Members – If you're a member of a Mastermind consider making a list of your colleagues and enjoy supporting their endeavors!
Connect With – If you're looking forward to meeting someone in person, or you'd like to interview them add them to a private group like this. You can see what they're posting, what interests them and this allows you to best connect with them when the time comes.
Events –

Whether you're hosting or attending an event consider making a list of people you meet. I've found when meeting in person a strong connection is often created and I want to maintain the relationship virtually…that is until we meet in person again 😉 This is a great way to stay in touch!

Personal Interests – 

All those hobbies! This is a great way to keep everything in one tidy place.

Industry Research – See what others in your industry are up to and possibly find creative ways to work together.
One additional note, I will say I still enjoy browsing through my Twitter feed on a regular basis. I mean I did follow a bunch of people for a reason. So even when you create your lists be sure to hop over to your main feed to engage with more people.
Your turn, go forth…create one Twitter list and add a few people you would like to connect with more. Then check it daily and start conversions!
How do you keep up with the never-ending feed on Twitter? Let me know in the comments below and I'd love to see your smiling face over on Twitter! I look forward to Tweeting with you.
Editor's Note: This post was originally published in August 2012 and has been completely revamped and updated for accuracy and comprehensiveness.