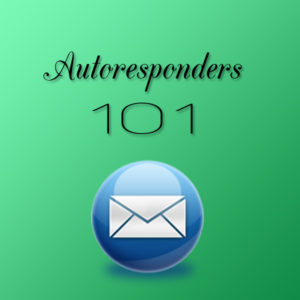 An essential part of social media success is a well thought out follow up system. I often work with clients in creating or enhancing their follow up systems to improve the opt-in rates for their business. Let's take a look at autoresponders today and how they can propel your listing building!
What is an autoresponder?
A sequence of pre-written and scheduled messages that are automatically sent to new subscribers, starting the day they opt-in.
Autoresponder Organization
Keep your autoresponder lists clearly segmented in your data base so you can follow up with select individuals as the opportunity arises.
For example, I have a Facebook autoresponder. These are people that have come onto my list from various Facebook promotions. I always share special Facebook only messages and specials with this list. Think of something similar to this that would work for your business.
Building the Relationship
I usually recommend at least two autoresponder messages for each opt-in. One they get instantly, and the second email a few days later. You want them both to have great copy and be well branded.
Once people are in your autoresponder sequence you can also send them broadcasts. A broadcast allows you to send email messages to all or some of your subscribers at any given time.
Why send broadcasts to them? You want to always stay in front of your hottest prospects, and your list in one of your business's most valuable assets. Let's talk about a few ways you can follow up with valuable and helpful information:
Ezines or Newsletters
Expert interviews
New training videos, posts or reports
Industry news they need to know
An upcoming course or product
Surveys – the best way to find exactly what they want…Ask Them!
Tools
If you don't have an email marketing service or autoresponder system already, there are a few we like and recommend, including:
Next Steps
If you have opt-in forms, check to be sure you have autoresponder messages setup and they contain valuable information and are well branded.
If you don't have opt-ins setup, get at least one opt-in setup with two autoresponder messages.
If you'd like to really optimize your opt-ins and increase your list check out my Autoresponder Worksheet for some fantastic ideas!